Next Event
Date

Dec 16 2019

- Dec 19 2019

Time

All times CST Central Time
9:00 am - 5:00 pm
Date
Dec 09 2019
- Dec 13 2019
Time
All times CST Central Time
8:00 am - 5:00 pm
SharePoint Fest, Chicago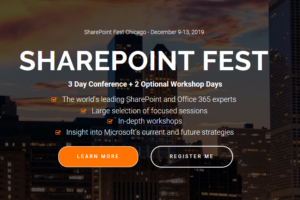 I'm pleased to speaking at SharePoint Fest, Seattle where I will be delivering the following workshop and sessions:
December 9, full-day workshop at 9:00am: "WRK106 – Becoming a SharePoint Online Admin Expert"
December 11, 70 minute session at 1:30pm: "ADM103 – Exploring Office 365 Migration Options and Tools"
Please join me in my workshop, and bring a laptop to follow along on our journey, of creating a new Office 365 tenant, configuring a few Office 365 SharePoint Online related settings, and configuring and managing SharePoint Online components and services. Also join me in my sessions to explore migration options and SQL Server configuration options that will significantly improve SharePoint performance.
Register here now and save $100 when you use Alderman100. See you in Chicago!