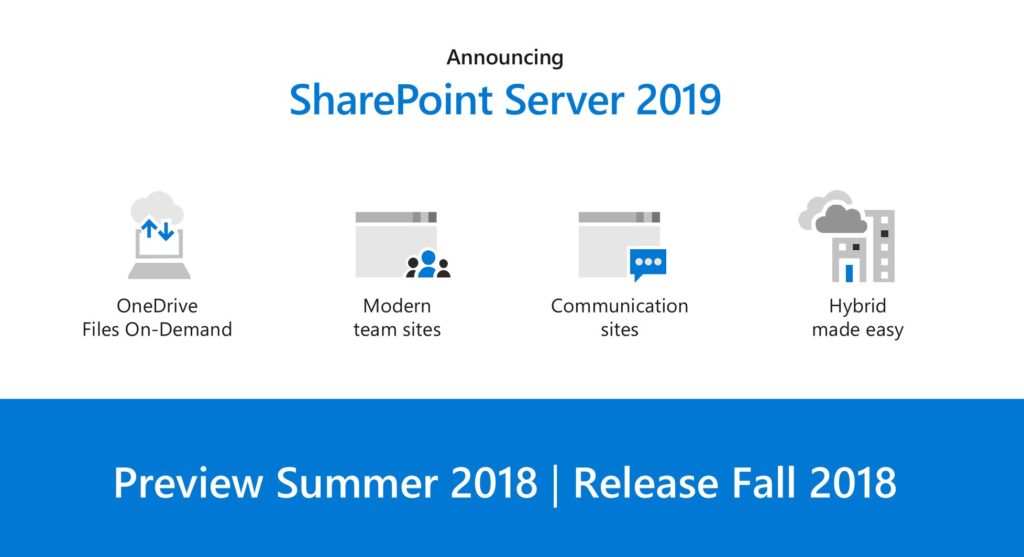 Microsoft holding to it's commitment of releasing SharePoint Server 2019 Preview in early summer announced the release of it on July 24th. If you haven't read what is contained in SharePoint Server 2019, please review my early blog post titled; SharePoint Server 2019: What you can expect that discusses the expected enhancements, new features and functionality, as well as what has been removed from this version of SharePoint on-premises.
In addition to SharePoint Server 2019 Preview, Project Server 2019 Preview was also released as announced by Senior Technical Product Manager of SharePoint; Bill Baer. He categorizes the enhancements and new capabilities of SharePoint Server 2019 Preview into three primary areas:
Modern, familiar and intuitive user experiences based on our investments in SharePoint Online
New ways to engage with content across browsers and devices
Robust scale, security and compliance capabilities to meet growing demands
SharePoint Server 2019 Preview will introduce the enhancements and new features in several areas of SharePoint including;
Modern interface for end users

Modern Team and Communication sites
Modern Lists and Libraries
Modern Pages

OneDrive for Business
SharePoint mobile
Large File support, character restrictions, file and folder names

15GB file uploads
Support for # and % in file and folder names
URL path name restrictions increase from 260 to 400 unicode code units
If you'd like to review the complete list of changes and new features, you can view them at this site:
https://go.microsoft.com/fwlink/?linkid=2006360
You can review the technical documentation for SharePoint Server 2019 Preview by visiting this site:
https://technet.microsoft.com/en-us/library/fp179725.aspx
Microsoft has hinted the production release, which normally follows the preview release, is expected sometime in the fall of 2018 and when it does, I'll be sure to update you with a blog post discussing the SharePoint Server 2019 RTM.